Your bedroom is your own personal sanctuary, and a fireplace is a fantastic way to create a warm and inviting atmosphere from the moment we awaken until we fall asleep.
According to research, 77 percent of buyers are willing to spend more for a property with a fireplace. Read on to learn more about the advantages of bedroom fireplaces and how they can enhance the vitality and value of any space.
Benefits of Bedroom Fireplaces
A fireplace provides many advantages, from being a cost-effective resource to simply getting you through the winter. Continue reading to discover the benefits of having a fireplace in your bedroom:
Adds Value
Fireplace installation will increase the value of your home, whether you intend to sell it or not. A master suite is the epitome of luxury that increases both functionality and visual appeal.
Energy Efficient
Electric fireplaces instantly turn electricity into heat. They don't require chimneys or vents, so all heat remains inside rather than being vented outdoors. Alternatively, buying wood for a wood-burning fireplace will be less expensive than utilizing fossil fuels to heat your home.
Warm Ambience
A fireplace can instantly transform the look of an outdated or lackluster room by giving it a fresh, modern appeal. A roaring fire also creates an intimate atmosphere in your bedroom.
Design Feature
A fireplace adds an exquisite focal point to your space while also highlighting your individual taste. From glass accents to natural stone, you can personalize your new fireplace to match your style and bedroom.
Improved Wellbeing
Studies have revealed that people connect the warmth, glow, crackle, and aroma of a fire with relaxation and companionship. Staring into a fireplace has been shown to improve communication, lower blood pressure, and calm the mind.
Light Source
These bedroom additions can be used all year round as an additional light and heat source, whether to enhance the ambiance or provide warmth during a power outage.
Easy Installation
A bedroom fireplace is easy to install. If you know what you want and communicate your preferences to a qualified contractor or installation company, you can have the fireplace of your dreams without the headache.
What to Consider
Bedroom fireplaces are a wonderful addition to any room, but it's always a good idea to be prepared by following a few simple precautions. Continue reading about what to consider before installing a bedroom fireplace:
Building Regulations
It is important to research the local construction codes in your area before you install a fireplace in your bedroom, as different states have different rules. Bedroom size and type of fireplace are also significant factors to consider.
Proper Ventilation
If you desire a bedroom fireplace, installing vents and having windows are safe and practical features you should have. In addition to keeping your possessions from smelling like smoke or staining your walls, proper ventilation will also act as a safety element in the event of danger or emergency.
Safe Arrangement
Arrange your furniture and accessories at a safe distance to decrease the risk of melting, overheating, or burning. Move all flammable items away from the fireplace to completely eliminate the possibility of a hazard.
Fireplace Screen
Consider installing a fireplace screen or door as a safety measure. It can act as a protective barrier if you have young children or you accidentally get too close to the flames.
Right Placement
Consider both design and functionality before adding a fireplace to your bedroom. Details such as displaying a TV or artwork above the fireplace, positioning it in the center or corner of your bedroom, and installing it on the ground or higher up could make a big difference.
Consistent Style
A fireplace is an elegant feature that will likely serve as the prime focus of your bedroom. For consistency and esthetic appeal, it is highly recommended to match your fireplace with the rest of your home.
Types of Bedroom Fireplaces
A fireplace is a beautiful backdrop for any bedroom, and the variety of options makes it easy to choose your ideal fireplace. Continue reading to discover the best bedroom fireplace for you:
Electric
An electric fireplace is a good investment for people who want a solution that is flexible, convenient, and affordable. Electric fireplaces are made to look like real fires, and they require the least amount of worry and upkeep.
Wood
There is nothing like the aroma of a roaring, wood-burning fire. Although they require more maintenance compared to gas or electric fireplaces, they are also more energy efficient. It also adds a rustic, traditional charm to your space.
Gas
An enclosed gas fireplace provides the cozy ambiance of a fire with a flip of a switch. It does not release smoke or ashes into the room and does not require opening and shutting a flue.
Vented and Ventless
A vented fireplace requires a chimney or flue, whereas a ventless fireplace doesn't. If you're looking for visual appeal, then a direct vent would be best. If you're looking for a heat source, a vent-free fireplace is a better choice.
Your Dream Fireplace
A fireplace is an effective way to upgrade an average bedroom into a luxurious retreat. Whether it's a relaxing weekend alone or a romantic evening with your loved one, nothing compares to the cozy atmosphere of a flickering fire.
Our goal is to help you get the fireplace of your dreams by offering a useful guide to bedroom fireplaces. Contact us to discover how a fireplace can transform your bedroom from ordinary to extraordinary.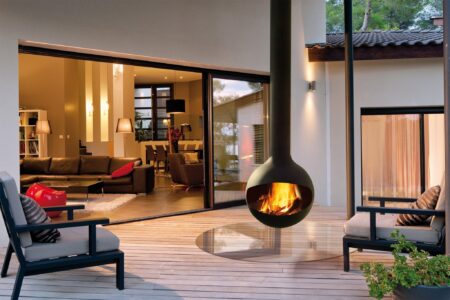 Venting a gas fireplace is crucial for proper air circulation and the removal of harmful combustion byproducts. However, not all homes are equipped with a
Read More »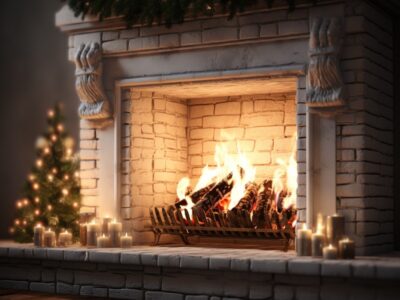 Cleaning white fireplace brick is essential to maintain its appearance and ensure the longevity of your fireplace. However, the cleaning process may vary depending on
Read More »
Looking to add a touch of elegance and warmth to your living space? Discover why a stone fireplace mantel is the perfect choice. Explore the
Read More »